Instructors Get Started with Clickers 
Want to use clickers in your classroom? Our Berkeley-specific support documents will help you get started using the iClicker Classic (formerly known as i>clicker) system, including integration with bCourses.
Make sure you have the hardware and software that you'll need:
Hardware
If you don't already have one, you'll need an iClicker instructor kit, free to instructors. To order, use the iClicker instructor kit order form; you should receive your kit 7 to 10 days after ordering it. This kit will contain a blue instructor clicker, a base receiver, USB cable. The instructor clicker can also be used as a presentation remote to advance slides, start/stop polls, view results and laser point. (Note: Instructor kits no longer come with student clickers; if you would like one—useful for testing—email our rep, stephanie.bragg@macmillan.com and request one.)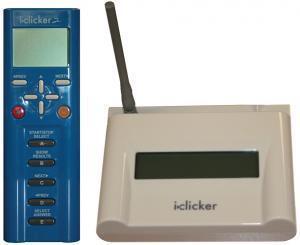 Software
Get the current version of the UC Berkeley-customized iClicker Classic software: 

If you have never downloaded a UC Berkeley-customed version  of  i>clicker 7.4.5  or later, follow the instructions on our 

Download iClicker software

 help page. 

If you have already downloaded a UC Berkeley-customized version of i>clicker (or iClicker Classic) 7.4.5 or later, follow the instructions to update your iClicker Classic software.

Do NOT download the iClicker Cloud application. This application is not needed (and will needlessly confuse you) if you are using iClicker Classic.
Then, for each course in which you want to use clickers, you should do the following:
Make sure your students have their clickers ready-to-go before the semester starts:
Order clickers from the bookstore for your students as you would a book or reader. (Use ISBN 9781319149246 for iClicker +; this is the standard clicker that allows for multiple choice responses only. Use ISBN 9781319149581 for iClicker 2, which you should only require if you need students to be able to provide numeric or alphanumeric responses.) If you do not know how to put in a bookstore order, email text@berkeley.edu to let the bookstore know to order clickers for your course.

Enable iClicker registration for the course in bCourses. See our Make the iClicker registration tool visible in bCourses help doc.

Make sure students in the course know to get a clicker (if they don't already have one) and register it in bCourses. We suggest you point them to the Students Getting Started page. The vendor also has a help page with student prep resources (a syllabus template and Powerpoint slides you can present. Both need to be downloaded, slightly edited to indicate your requirements, and then provided to students.) Note: these require you to indicate whether or not you will enable REEF for mobile support; for more info about this, start with our Help article, "Mobile support for iClicker". Also, in the portion of the template that has you specify your LMS, you should use "bCourses."
Set up the software:
Think about your course objectives and create your first question(s) to use with clickers:
Prepare the questions (typically with multiple choice answers) that you will ask students to respond to. You can present questions in any manner you want, either verbally or visually; most instructors include the questions and answers in their Powerpoint or Keynote presentations. On our Additional Resources page, look under "Best Practices" f

or resources to help you create engaging questions. 
Use clickers in class and get the results into bCourses:
Run your first clicker poll(s). This is as simple as displaying your question, telling iClicker to listen for answers, and telling your students to turn on their clickers and respond to the question you've displayed. See Running an iClicker poll for details.
You may also want to provide subsequent activities in class to engage your students based on the results of your poll.

Sometime after running the poll(s), you'll want to synch the data you've collected on your laptop with bCourses:

Especially at the beginning of the semester, it's a good idea to update your iClicker roster with new registration information (to reflect late registrations). See Synchronize your roster. 

Then, you should get the points from your poll(s) into bCourses. See Upload your iClicker Scores to bCourses.
From this point on, you'll be repeating the above steps, i.e. creating more questions, running more polls and uploading the data to bCourses. Note that you don't have to synchronize your roster and upload scores to bCourses after every class (unless you have promised students you will do this). We strongly suggest, however, that you ensure that all students have registered their clickers and are getting points near the beginning of the semester (perhaps right after the add/drop period ends) to alleviate issues later on.
If you experience any technical problems, please let us know by using the options available in the "Clickers Help" section of this page. 
If you'd like one-on-one help with any of the above, you can schedule an online training session with the vendor.