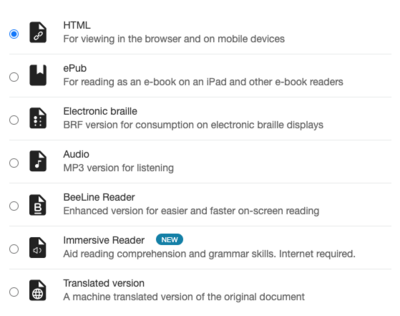 Ally is a set of tools within bCourses that helps make course content more accessible by delivering  the following functionality:
Allow students to automatically generate "Alternative Formats" for course files and bCourses Pages. Depending on the context, these formats can include Tagged PDF, HTML, BeeLine Reader, Electronic Braille, ePub, Immersive Reader, MP3, and translated versions.

Provide instructors with accessibility scores next to uploaded course documents and images so instructors can learn how to create more accessible content (note: students cannot see or access the acccessibility scores).

Review and remediate bCourses Page content using the WYSIWYG Instructor Feedback Tool
Identify and fix accessibility problems in your bCourses site using the Ally Course Accessibility Report 

Assess the accessibility of uploaded content based on WCAG guidelines(link is external)

Create an institutional report allowing UC Berkeley leadership to assess the accessibility of uploaded course documents over time.

Translation of documents and bCourses Page content in over 70 languages.