For this edition of "Behind the Scenes of a Classroom Refresh", we bring you 177 Stanley, which received a major technology update in July 2023.
Opportunity to Innovate and Good Timing!
Innovation and timing often collide to produce remarkable opportunities. Spring 2023 ushered in such a moment with the convergence of minds from California Institute for Quantitative Biosciences (QB3-Berkeley), the Office of the Registrar (OR), and RTL's Classroom Technology Service team. The result? An ambitious plan to transform 177 Stanley, once a QB3-Berkeley departmental space, into a General Assignment (GA) classroom, setting the stage for exciting developments for the 2023-24 Academic Year. This collaboration offers a trifecta of wins:
QB3-Berkeley's Focus: QB3-Berkeley is relieved of the responsibility of maintaining 177 Stanley's space and technology infrastructure while limited priority access to this versatile GA classroom, allowing them to focus resources on their core mission of scientific discovery and research.
OR's Gain: The Office of the Registrar gains access to a well-appointed classroom. This resource promises to enhance the quality of campus classes, thereby enriching the learning experience for students.
RTL's Technological Leap: Our team gains access to a GA classroom space uniquely suited for the "Classroom of the Future" project. This ambitious endeavor aims to explore and implement cutting-edge technologies as the team identifies the next classroom technology standard for the GA classrooms on campus.
An Accessible Podium with a Twist
Continuing the tradition of enhancing accessibility within academic spaces, the upgrades in 177 Stanley, like the previously highlighted 120 Latimer renovation, included a custom-made, height-adjustable lectern. What sets this lectern apart is the inclusion of a 24" touch screen. This touchscreen interface serves as the command center for the newly installed Zoom Room, a cutting-edge software-based room system designed to deliver a seamless audio conferencing, wireless screen sharing, and video conferencing experience. In addition to its primary functions, this touch screen doubles as a versatile whiteboarding tool, catering to both in-person and remote participants, further elevating the learning and collabration experience within 177 Stanley.

Standards Deviation for Co-taught Class with MIT
As a QB3-Berkeley departmental space, a unique use of this classroom includes a class that is co-taught with MIT - 2 classrooms, 2 instructors, 2 rooms of students at the same time! To cater to this distinctive use case and to explore potential future classroom standards, the AV designer integrated several forward-thinking features within the space:
Dual Displays for audience and presenter: One of the standout features is the incorporation of dual displays at the front and back of the room to offer an immersive and engaging learning environment for everyone in the room
Dual Cameras: Two cameras are strategically positioned to capture both instructor and student perspectives. This dual-camera setup enriches the educational experience by providing comprehensive coverage of the class, allowing for enhanced interaction and engagement.
Ceiling Beamforming Microphones: To ensure flexible voice capture, the classroom boasts two ceiling beamforming microphones. These microphones are equipped with presentation and audience modes, accommodating different scenarios and ensuring crystal-clear audio capture whether it's the instructor delivering a lecture or students actively participating.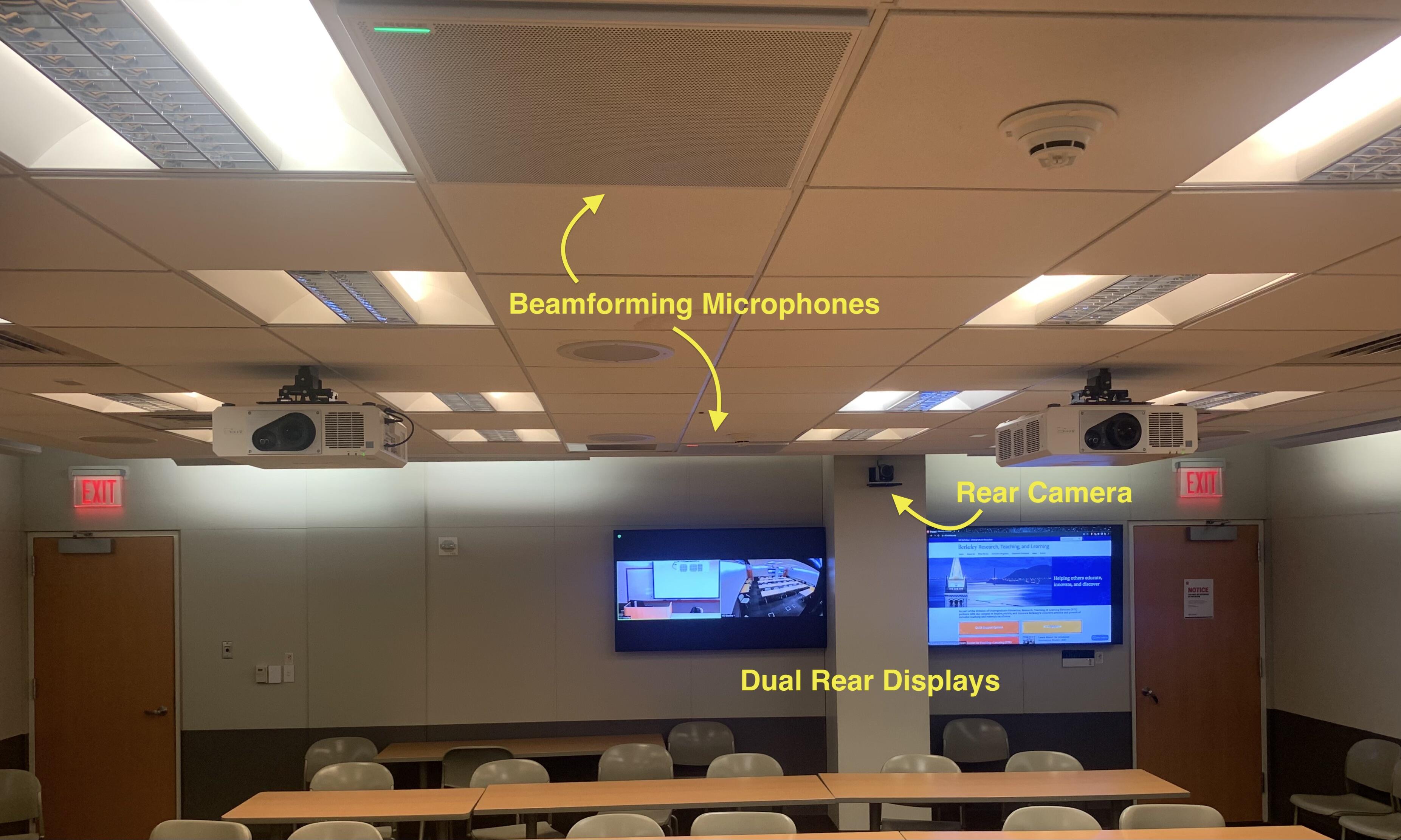 We hope this glimpse into the 177 Stanley classroom upgrade helps you understand the process and considerations involved in transforming our classrooms to support instruction at UC Berkeley. Please feel free to reach out to the Classroom Technology Services team at classroomav@berkeley.edu(link sends e-mail) if you have any questions or feedback.